Carbon Gyuto Masur Edition
Regular price

Sale price

$352.00
A high-performance favorite amongst professional chefs and kitchen knife enthusiast. The Carbon Gyuto is simple yet elegant with a rich contrasting blacksmith finish below the spine and satin polished bevels.
A balanced, forge tapered blade that is satisfyingly thick above the heel, yet ultra-thin at the tip and with a decent blade height, we think this is just about the perfect Gyuto profile.
Convex geometry and super thin behind the edge, this blade is a dream to work with. The 1.2419 German tool steel gives an almost perfect Gyuto, a super tough edge that is both razor sharp and durable.
The Carbon Gyuto is finished with the classic Rokkaku Hanmaru Birch and Bevel handle. Masur birch, micarta, G10 and brass combine to produce an undeniably classy handle. The complete package is everything you need in a kitchen knife and nothing you don't. Whether you are looking for a dependable companion for those long shifts in the commercial kitchen or a stylish high-performance cutter for at home this is it.
1. Specifications

Blade Type: Gyuto

Edge Length: 230mm | 250mm

Spine Width - Heel: 4mm | 4mm

Spine Width - Mid: 2.2mm | 2.2mm

Spine Width - Tip (20mm before): 1mm | 1mm

Blade Height: 53mm | 56mm

Weight: 200g | 210g

Cutting Edge Steel: 1.2419

Stainless: No

HRC Rockwell: 65

Blade Construction: Mono Steel

Blade Finish: Textured and Satin Polish

Grind: Convex

Handle Construction: Hidden Tang

Handle Materials: Masur Birch, Micarta, G10, Brass

Handedness: Ambidextrous

Saya Included: No
2. Care Instructions

NEVER PUT YOUR KNIFE IN THE DISHWASHER OR LEAVE SOAKING IN WATER.

Cleaning: Clean by hand with warm water. Avoid wetting the
 handle when possible. 

Sharpening: We advise using whetstones to sharpen your knives. Over time you will get to know when your knives need to be sharpened, but with daily home use you will likely need to sharpen them once every 3-4 months. Using a honing rod or steel to maintain your bevel between sharpening will help.

Reactive steels: Reactive steels like Aogami Super, Apex Ultra or 1.2419 German tool steel are susceptible to rust if not properly cared for. In this case we advise that you keep knives dry between uses and when storing the knife for longer periods wiping the knife blade with Tsubaki oil or another food safe oil is a wise choice. This will not stop a patina
forming on the blade, but it will stop rust. A patina can be a beautiful personal feature on your knife and helps to stop rust forming. So, dry your knife regularly between uses, store in a dry place and apply some Tsubaki oil from time to time when storing for long periods. 

Caring for your knife handle: Your Birch and Bevel kitchen knife has an oak, birch bark and brass handle, which we have treated 
with a protective oil, but over time this will wear away. You can apply 1 or 2 drops of boiled linseed oil or Tru oil if you can find it. Natural bees wax or another food safe wax can be applied in addition.

Never apply hot wax or oil as you risk warping or damaging the handle.

Usage: Although your Birch and Bevel kitchen knives are made from the best steel available, heat treated and hardened using best in class techniques, it should be mentioned that these knives are designed for culinary use and not meant to be used to cut hard materials like bone or frozen produce. 

Hurry, only 5 items left in stock!
Share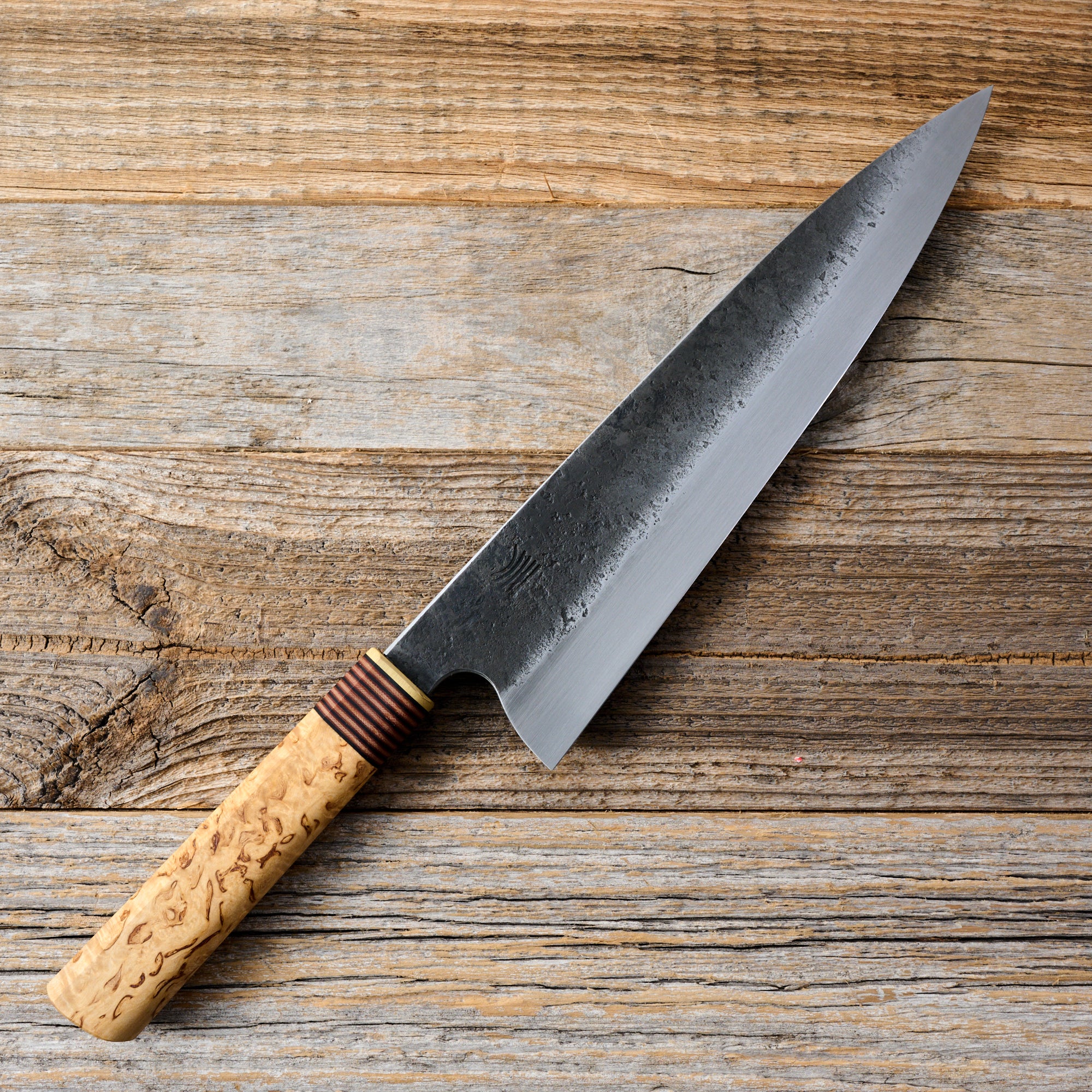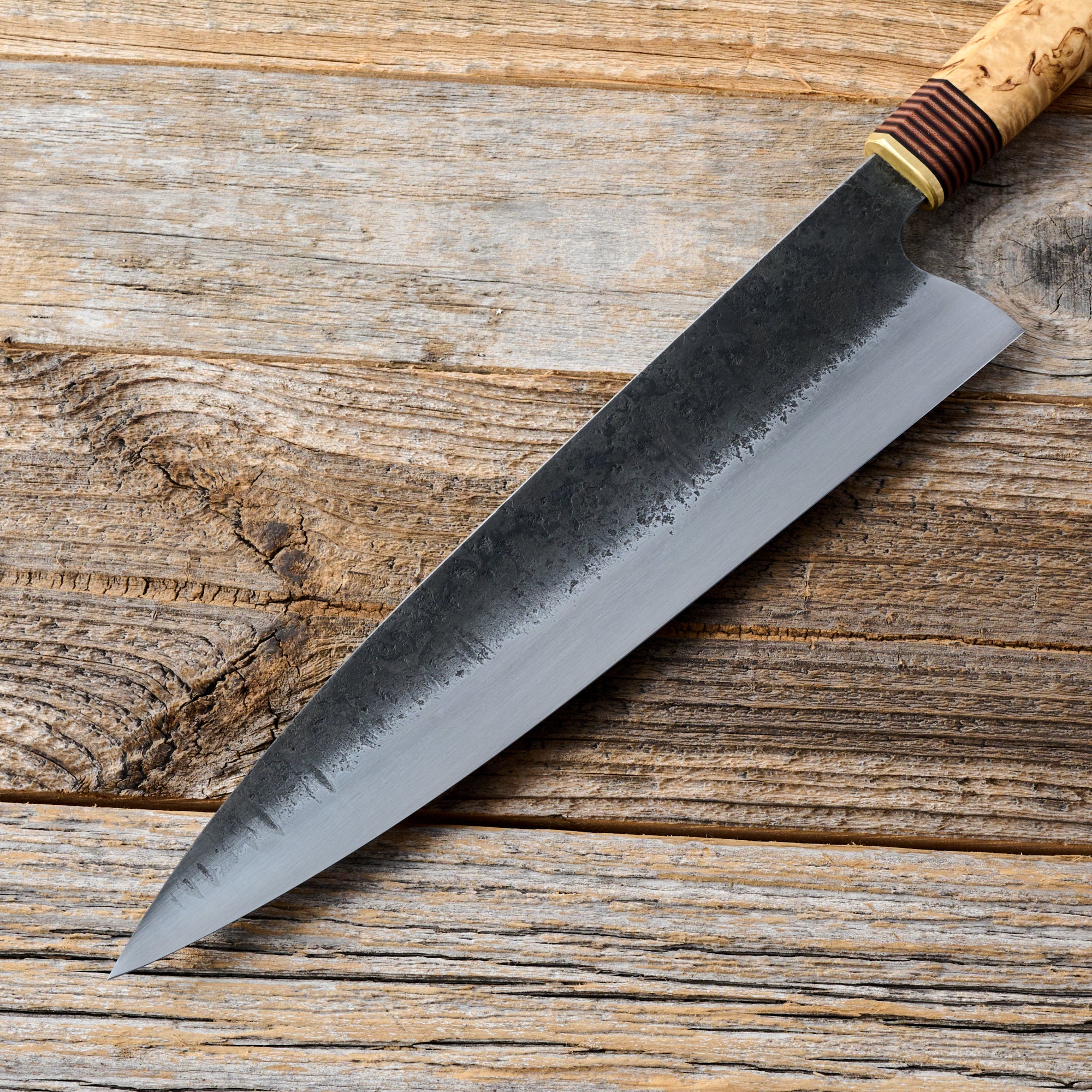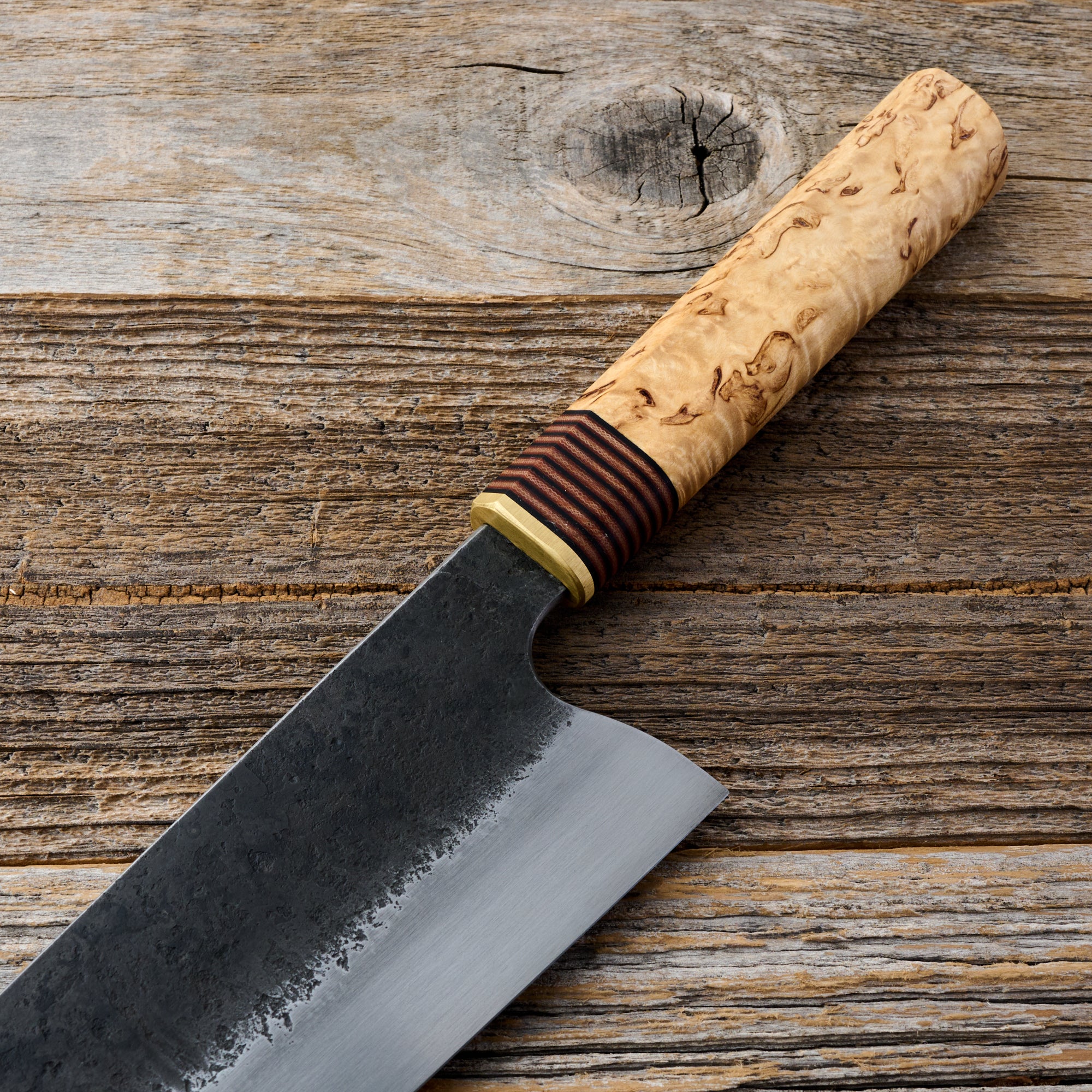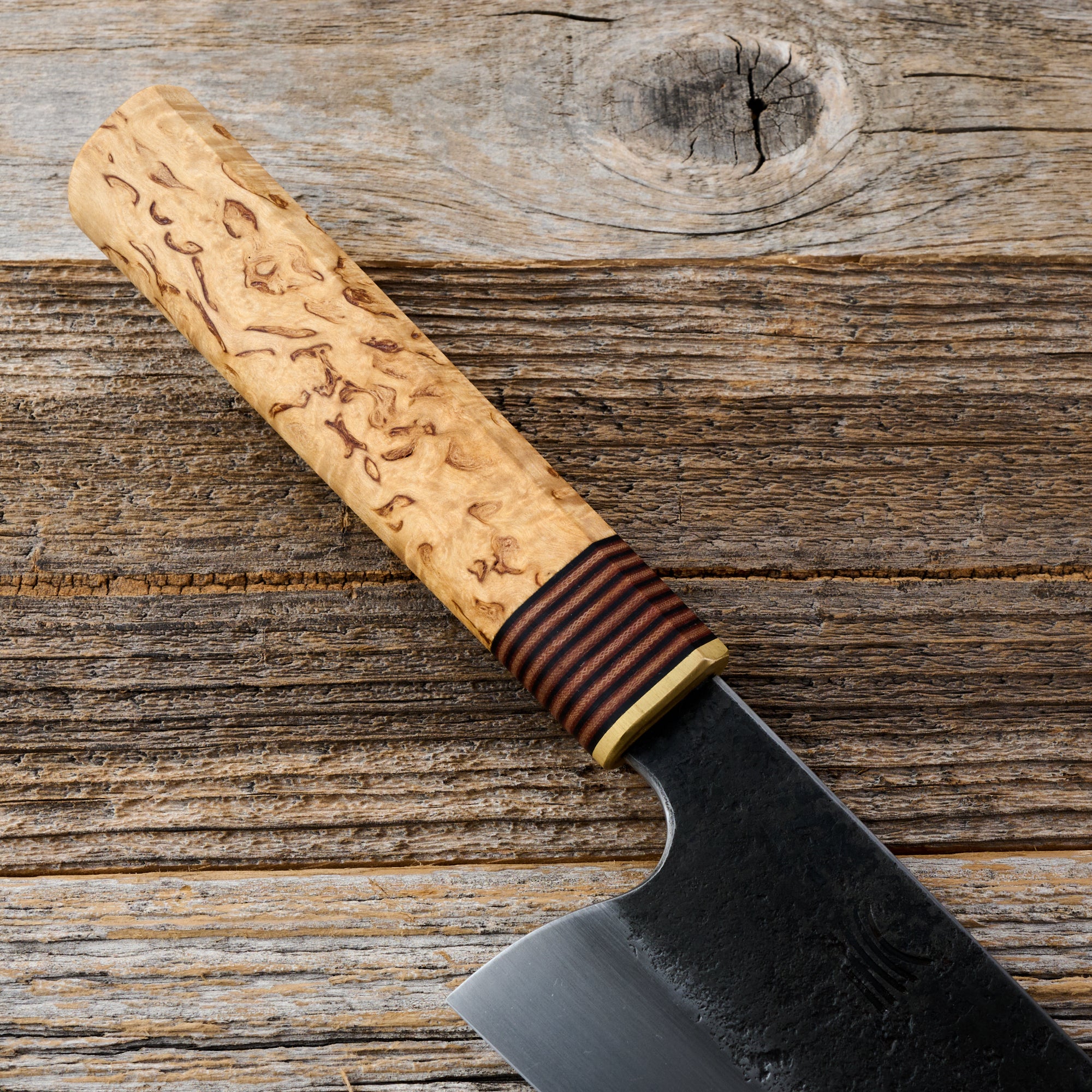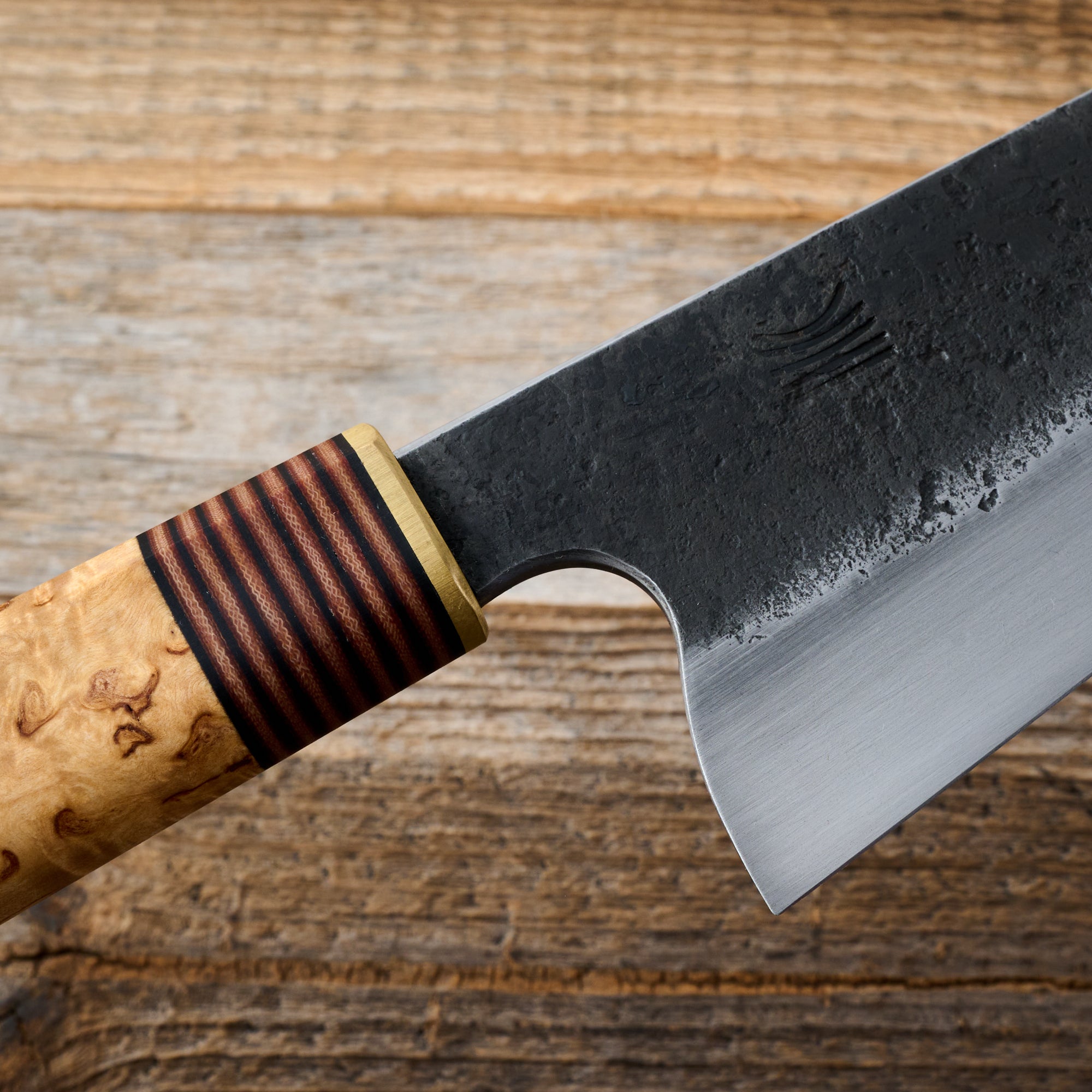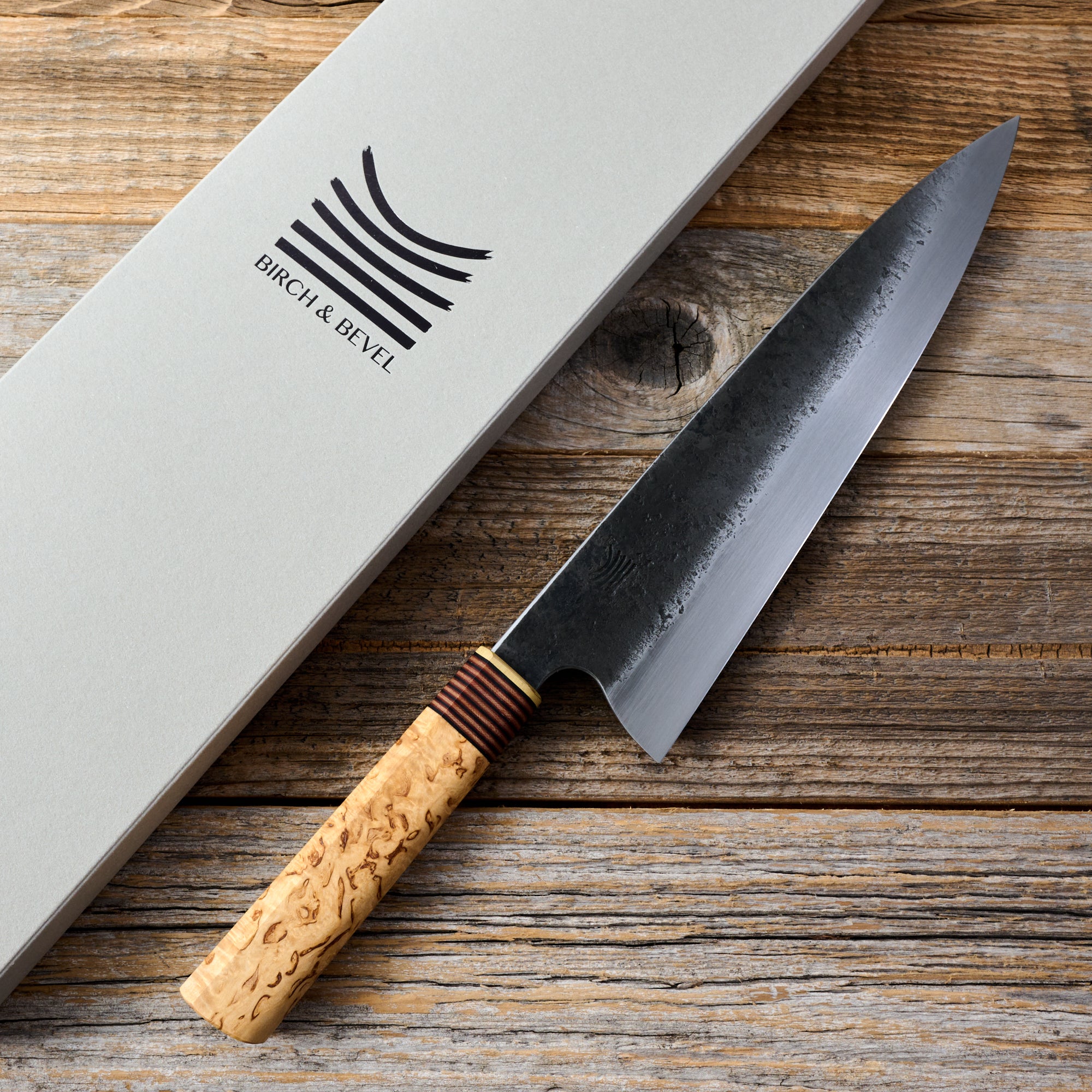 Artisan Crafted In Europe

Reliable Customer Service