Our story is our team
Birch and Bevel has grown organically. We feel that innovation can't be forced and should always feel natural.
Independent, but working as a team our product is produced by a collective of like minded, passionate craftsmen and women, metallurgists, machinists, and engineers. Together we are able to produce a product that we love and provide a service that we are proud of, together we are Birch and Bevel.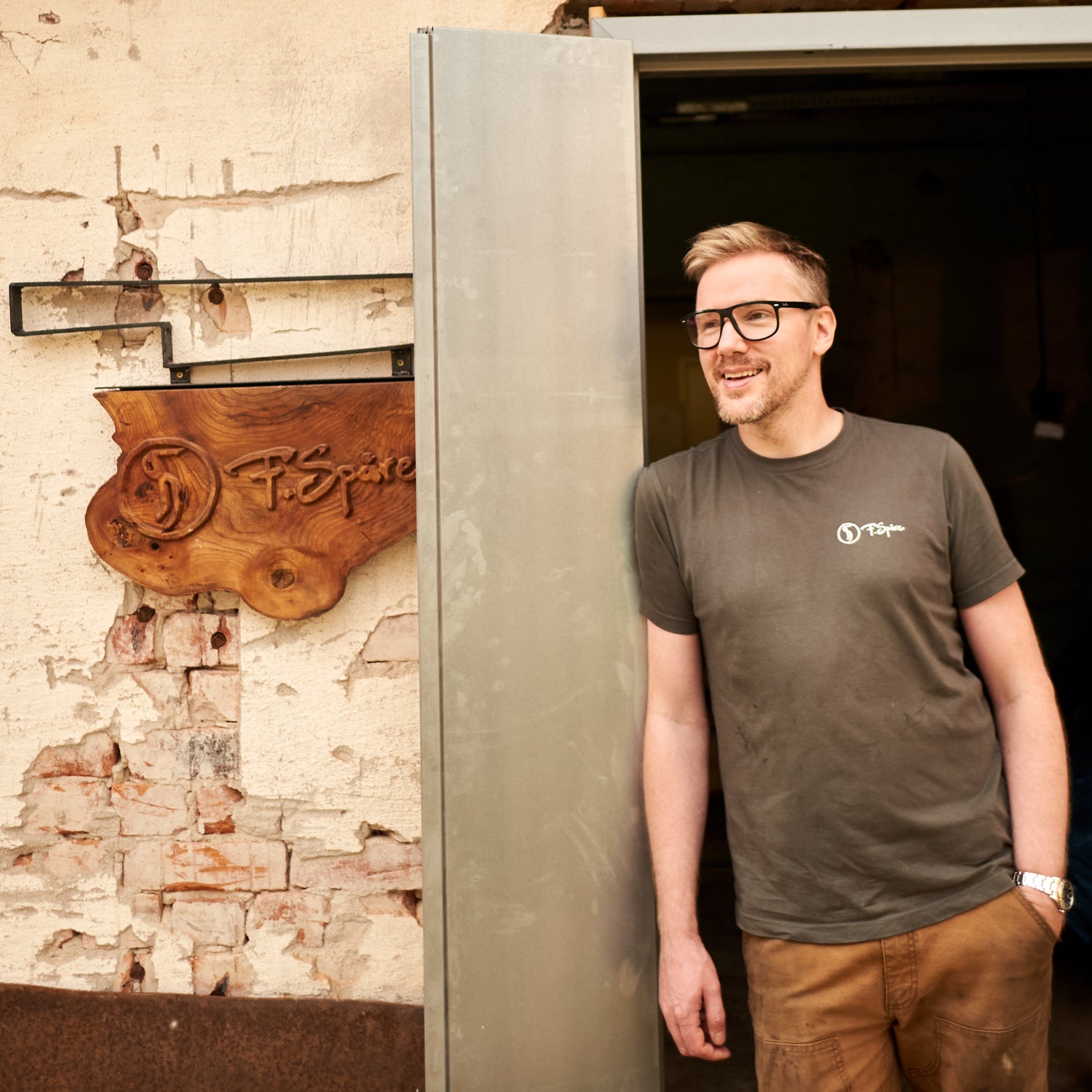 Fredrik Spåre
Fredrik's kitchen knives are highly sought after by professional chefs the world over. 
Known for having simple yet tasteful designs, often using locally sourced masur birch and brass for his handles and preferring to forge mono steel blades. Dedicating his time to the processes that give a knife its performance characteristics. This is performance first design at its best, the art is in the function.
From start to finish every step is completed inhouse. Fredrik, a former professional chef, has a focus on the processes. This has led to extremely high standards of heat treatment, forging and grinding, the elements that give a knife its sharp edge, ergonomics and cutting performance.
Birch and Bevel evolved out of the MCX line. MCX is a collaborative project established by Fredrik and the team at Modern Cooking, which famously sells out in minutes.
Fredrik, is part of the design team and forges many of the Birch and Bevel kitchen knives.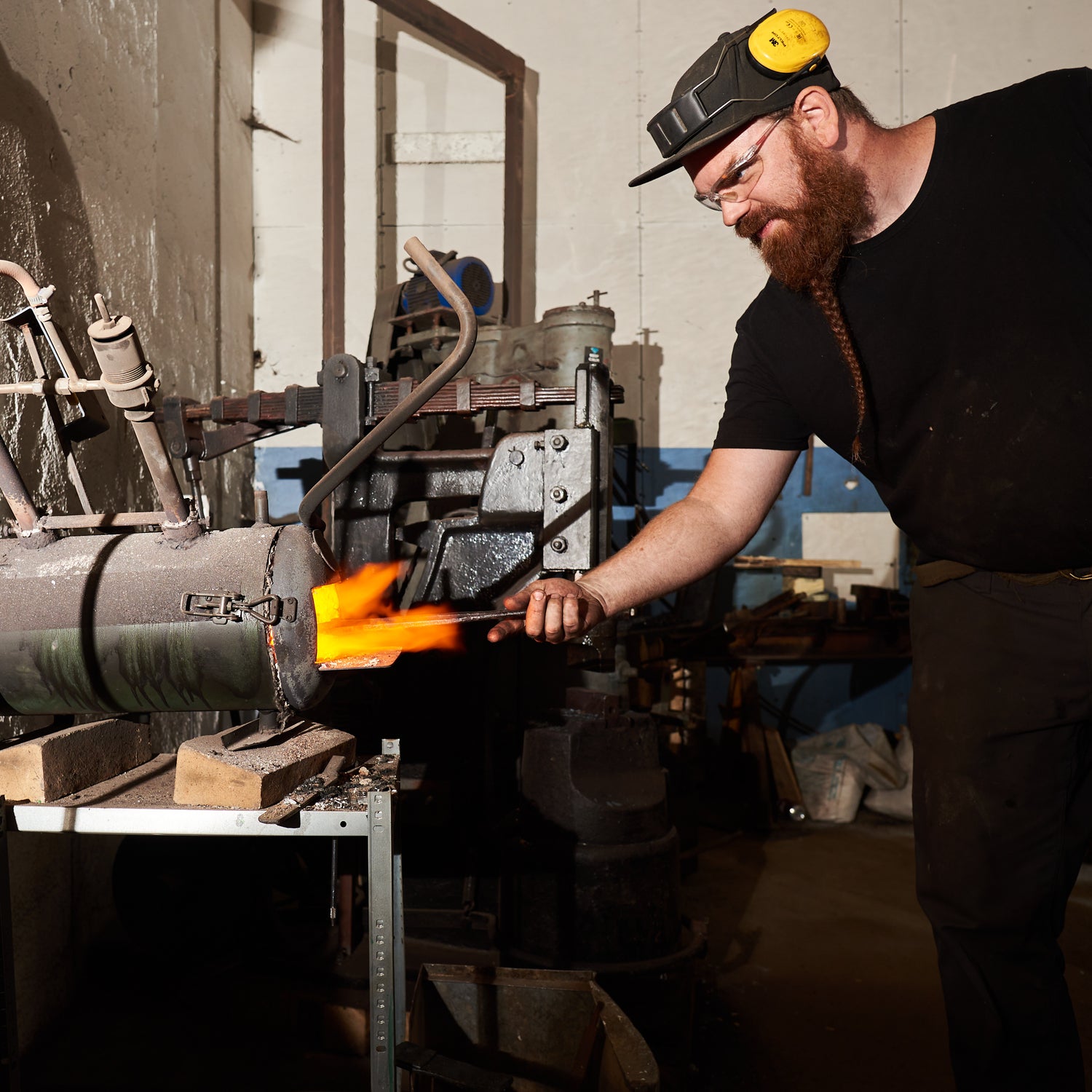 Jonas Johnsson
Inspired by the art and tradition of Japanese blacksmiths and western makers alike, Jonas produces some of the best Honyaki kitchen knives in the world today. A traditional Japanese method, Honyaki kitchen knives are hard at the edge and soft at the spine with a beautiful silhouette like wave pattern on the face of the blade representing the transition. Jonas's custom forged knives are prized by collectors and kitchen knife enthusiast who are often willing to wait a year or more to secure one of his mirror polished or integral Honyaki Gyuto's.
Apart from Honyaki, Jonas also produces knives in Damascus and house forged layered steels. His custom works often feature a runic signature, locally sourced birch bark, deer antler and oak, amongst other beautiful and unique materials. Jonas is famous for rustic yet tasteful designs and his knives feature astonishing cutting performance. 
Working from his small studio in the Isabackarna (Ice Hills) region of Sweden Jonas, like Fredrik, forges Birch and Bevel knives and is a member of the design team.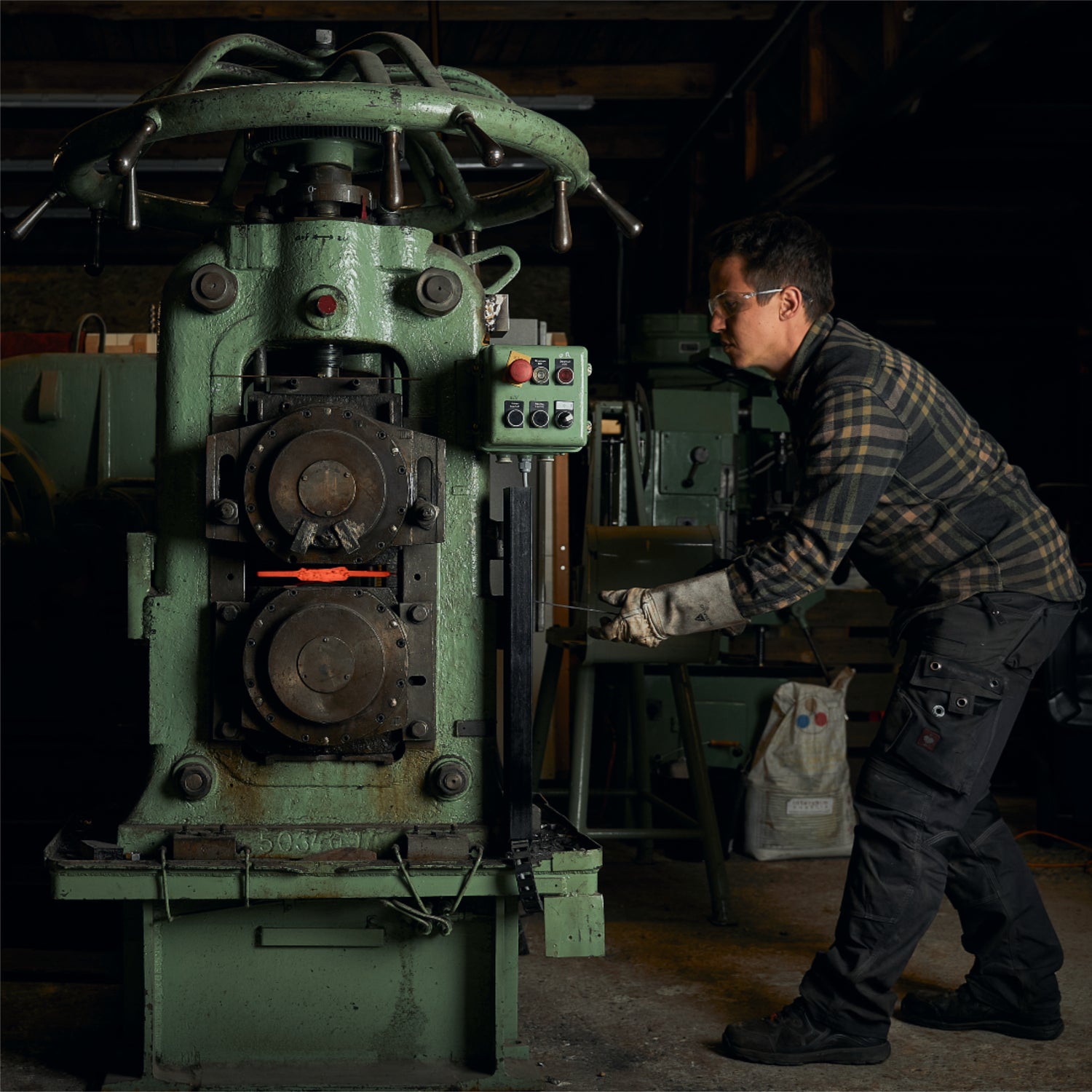 Tobias Hangler
When we began developing the product line-up for "Birch & Bevel" one of the key ideas from the beginning was to offer a hand forged knife that features the absolute best quality steel, forged geometry, and craftsmanship possible. To do this we knew that we would need to put together a team of highly skilled, artisan blacksmiths and metallurgists.


Austrian Based Tobias Hangler is an extremely talented and passionate artisan blacksmith and professional metallurgist. A founding member of the development team that created Apex Ultra, an innovative new steel developed with the singular goal of producing premium culinary knives that can hold an incredibly sharp edge with best-in-class wear resistance. 
Tobias brings a degree and over a decade of knowledge and experience in metallurgy as well as an artist's eye for creating beautiful, high performance layered steels. Tobias is forging a number layered (San Mai) steels for us and they all feature Apex Ultra at the core.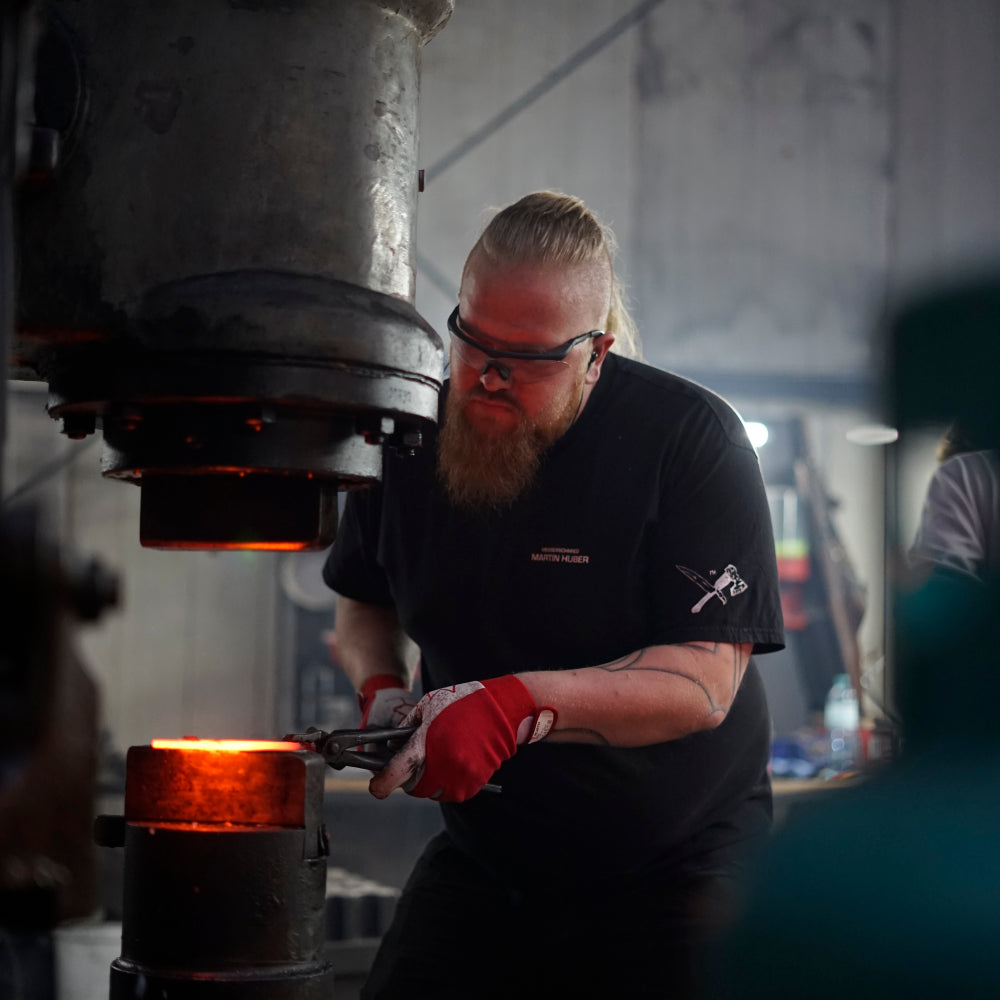 Martin Huber
Martin Huber has been making knives since he was in his early teens. Both of his parents have also worked in metal fabrication and so you could say that he has a little iron in his blood.
Martin lends his skills to a number of different areas. All of our handles are made and fitted by Martin. He also plays a very hands on role in their design.
Martin also forges some of the knives as well, including our Damascus clad SanMai.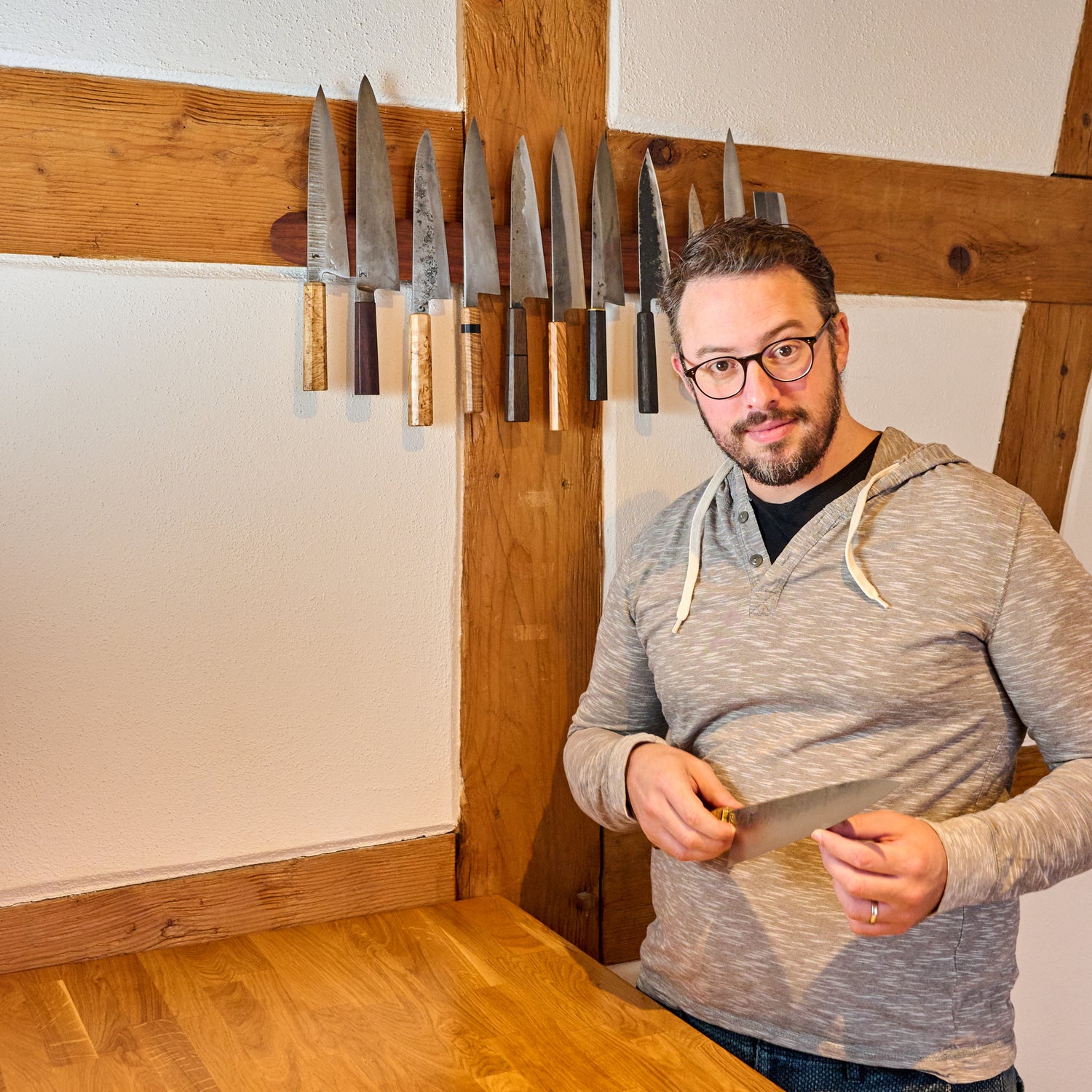 Peter Buckwalter
Passionate about culinary experiences at home and in fine dining establishments and having worked as a professional chef, Peter was driven to establish Modern Cooking, a curated platform that gives artisan craftsmen and women from around the globe a place to showcase their work. 
With a keen eye for detail and an emphatic understanding of the tireless work that goes into these artisan products, Peter has been able to develop an extensive network of craftsman and women who are all considered members of the
Modern Cooking family. 
The products found on Modern Cooking have a reputation for being some of the most beautifully crafted kitchen tools in the world and all with an underlying focus on quality and performance.
With Birch and Bevel Peter has brought together a selection of these talented artisans with the singular goal of producing kitchen knives that break barriers, bringing quality, artistry and performance that has not been seen in domestic kitchen knives for many years.